A lot of people mostly know Winona Ryder from her recent appearance and performance in the Netflix series Stranger Things. She is, however, a very talented actress with resume that can top nearly anyone's. Back in the day, she was also seen as an important fashion icon. Ryder helped make grunge one of the most popular styles of the 1990s, which helped spread many of the most important fashions of the decade.
Related:20 Little Known Facts About Winona Ryder's Time On Stranger Things
There is no better moment than now, when everything from the '90s is making a comeback, to take a look back at the innovative styles that Ryder established the first time around. Choker necklaces? Guess who made those popular. The same is also true for a lot more of the current trends, like chunky boots, slinky dresses, and denim jackets. Discover how the OG made the style of the '90s look like it was the greatest thing ever. Here are some of Winona's most memorable and iconic fashion moments. And don't forget to stop and shop for similar pieces that you can wear now with our convenient links listed.
The styles linked in this article are all handpicked by the writer, however, The Things is part of the Amazon Affiliate Program, and they may receive a commission if you purchase through the listed links.
Winona Ryder In '90s Basics And '80s Heather's
In the 1990s, Winona's fashion was characterized by an androgynous aesthetic. She established her own look by wearing oversized blazers, shirts, and Chelsea boots. This photo is the perfect example of her sense of style, as she wears a clean white shirt, suspenders, and wide leg pants to create a wonderfully alluring yet laid-back appearance. This combination has a more modern feel. Today we see high-waisted pants with a dress shirt, one side tucked in the front of the pants, and a lacy bralette under it.
SilRiver Black Bralette Beully Blue Ruffle Skirt
Heathers is an important piece of film history, both as a cult classic and as the plot that went on to inspire other cult favorites of the 1990s, such as Jawbreaker. The clothes in the film were also legendary. You may find yourself grasping for your pleated mini whenever you see it because it is an absolute onslaught of preppy-ness from beginning to end. The powder blue, puffball skirt is everything. Winona's style is deceptively simple, yet it is immediately recognizable. You can go back in time to recreate this iconic style from the early 1990s by wearing a blue mini skirt, a black vintage crop top, and a cardigan.
Winona Ryder's Biker Chic Look From The '90s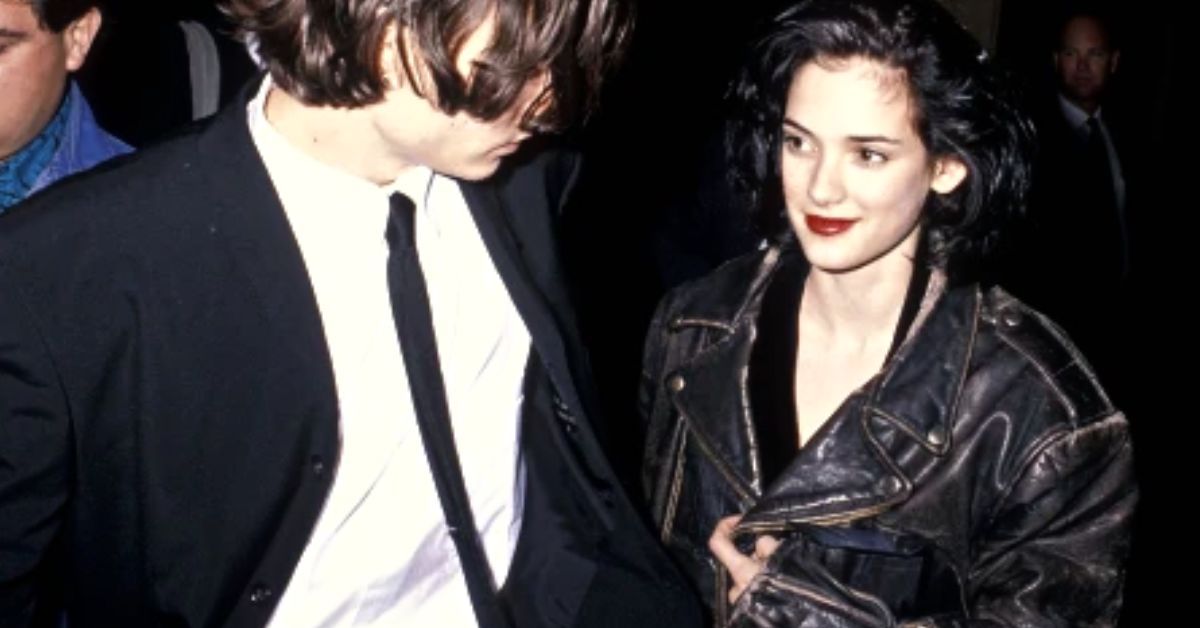 Cropped Black Leather Jacket
Depp and Ryder were the most talked-about couple of their generation. Think of Bennifer, only bigger. They are still widely regarded as one of the most gorgeous and famous celebrity couples that there has ever been. In 1990, Winona donned this look at a Vogue party, where she appeared with Johnny Depp looking youthful and fresh faced.
Related:Winona Ryder 'Took Johnny Depp's Soul' But Later Saved Him
This time-honored look is perfect for cool evenings when you are yearning to wear your most cherished slip dress but don't want to run the risk of getting chilled to the bone. To achieve the ultimate carefree, cool-girl look, all you need is a flirtatious minidress that fits you like a glove and a cropped vintage leather jacket.
Winona Ryder And Her Classic Band Tee From The '90s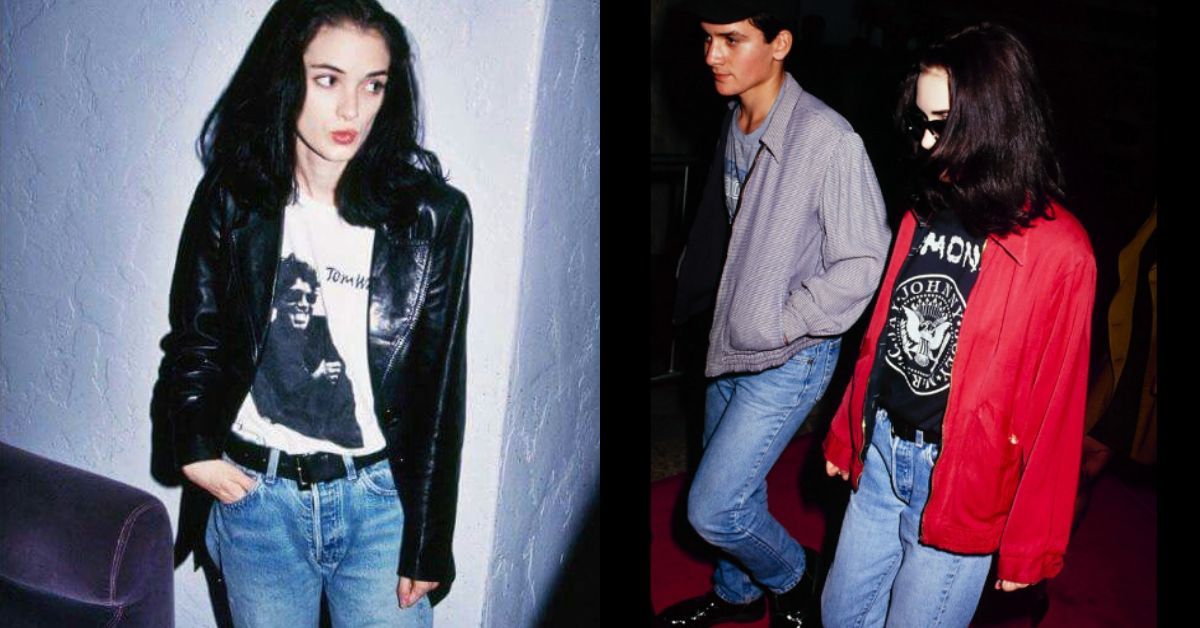 Tom Waits Band Tee
At last, an excuse to put on your go-to, most comfortable clothing; obviously, you're trying to channel your inner Winona from the '90s. This kind of style is the ideal choice for a Friday outfit since it can take you from the office to a night on the town. In Winona's case, she wore it to the premiere of Commitments with Keanu Reeves when everyone thought they were secretly married.
Related:Winona Ryder Shared A Wise Piece Of Advice With Her Stranger Things Co-Stars
All you need to master the art of effortless dressing: your favorite pair of vintage wide-leg jeans, a classic graphic t-shirt, and Winona's signature black leather jacket. The beauty of this look is that it can be fully reworked by merely switching the shirt or shoes that you are wearing with it.
Winona Ryder's Gothic Academy Award Dress
And the fashion award goes to… Winona forever. Winona Ryder took the gothic look to another level. It wasn't all white skin, black lipstick, and "I hate people" stares. You couldn't help but become immersed in it. During the end of the '90s, it was obvious that Ryder was on a historical goth kick. Instead of opting for the delicate and girly look classic to most Hollywood starlets then, she went with a Gatsby meets Gothic era inspired outfit. The slicked-back hair, sheer overlays, and flapper-like beading gave it a sense of edge and beauty that she pulled off wonderfully. This could still be worn today, and she would turn just as many heads.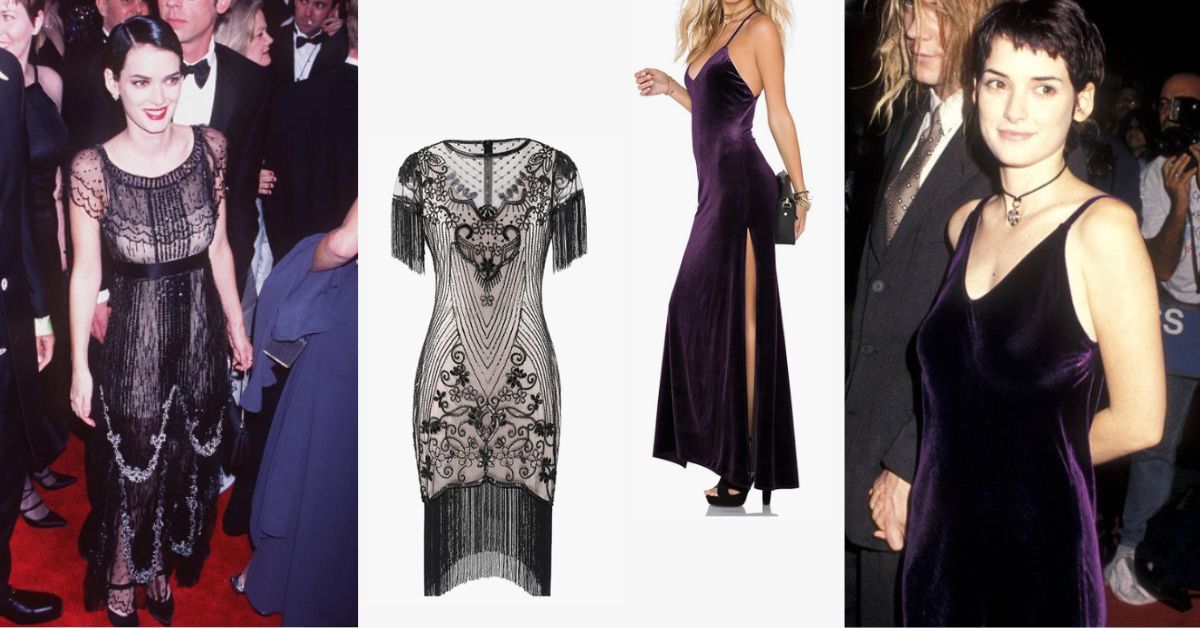 Fairy Couple 1920's Black Dress Algeman Purple Velvet Dress
A choker and a slip dress made of velvet! Winona Ryder was the first person to rock this combination, which has become extremely popular among "it" girls in recent years. For the premiere of "The Age of Innocence" in New York City on September 13, 1993, the Reality Bites actress wore an outfit that was very much in the moment at the time.
Winona Ryder Lived In Black Through The '90s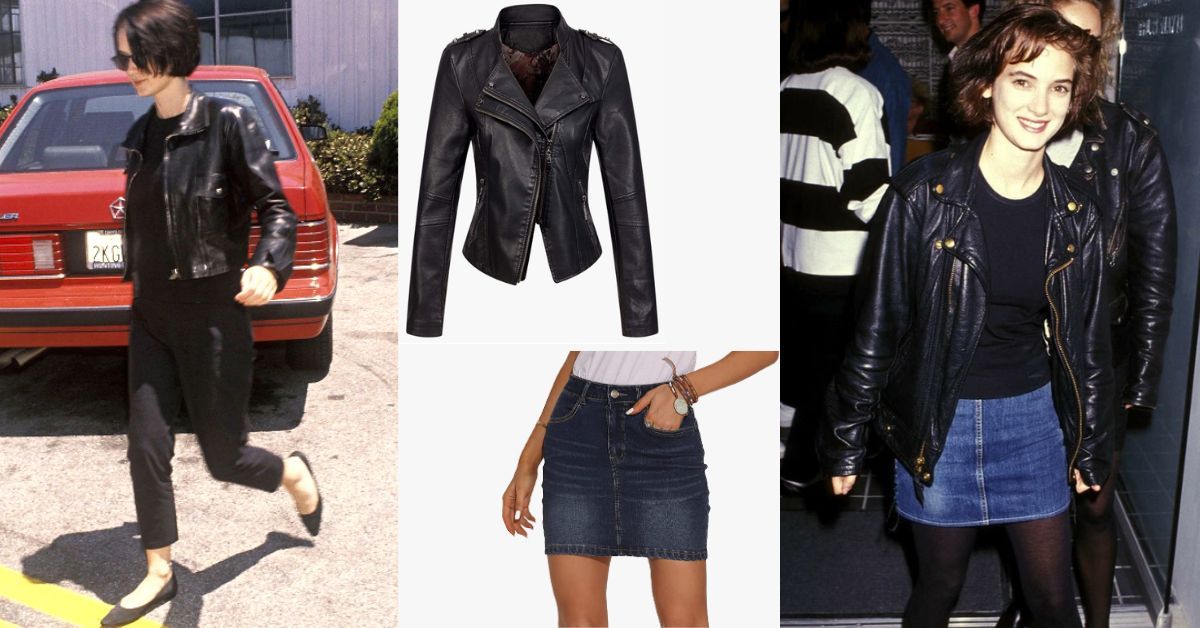 Cropped Black Leather Jacket Guanyy Denim Skirt
First and foremost, you should know, Winona Ryder's sense of style was and still is particularly dedicated to the color black. Throughout the 1990s, black was the color of choice for practically every red carpet and public appearance. This girl wore all black outfits from head to toe. You wouldn't be able to spot her, for instance, even if she were to move 10 feet in front of you while it was dark. It wasn't only Ryder wearing black pants with a black shirt though. Several others were daring to do it too, after seeing how chic Winona made it look.
Thankfully, the style did flatter her, as the black contrasted wonderfully with her light white complexion and red lipstick, as well as her perpetual look of sadness. This was due to the fact that she was always looking miserable. This appreciation for the darkest of hues may also have been a good career move for her, as it complemented her identity as an actress who was drawn to darker, more enigmatic characters, similar to her character in the movie Beetlejuice.
Yet in addition to the fact that Ryder was a master at rocking an all-black ensemble in the 1990s, she has continued to wear all-black ensembles to red carpet events and premieres today. She remains very committed to her style.
The styles linked in this article are all handpicked by the writer, however, The Things is part of the Amazon Affiliate Program, and they may receive a commission if you purchase through the listed links.