Share and Follow
Highlights
Kevin Jonas' wife, Danielle Jonas sometimes feels inferior to her sister-in-law Priyanka Chopra and former sister-in-law Sophie Turner due to their fame and successful careers.
Despite the differences, Danielle values her relationship with Priyanka and Sophie and appreciates having supportive girlfriends to talk to.
Kevin Jonas also feels the pressure of comparison to his successful brothers and believes that everyone has to find their own place in any situation.
Danielle Jonas has admitted she sometimes feels inferior to her sister-in-law Priyanka Chopra and her former sister-in-law Sophie Turner. "It's a love-hate. I feel like I am torn," Kevin and Danielle married in Long Island in 2009 and have two daughters together.
The former hairdresser opened up about being the only Jonas wife who was not famous before marrying their spouse. "The two boys married somebody who [are] actresses, they're out there, everyone knows them," Danielle Jonas said about her sisters-in-law, Priyanka Chopra Jonas and Sophie Turner, on The Lady Gang podcast. "I feel like I'm Danielle. And it's hard."
Danielle has also admitted that she sometimes wishes she could have "something else" to her name when she compares herself to Chopra and Turner. Danielle, Priyanka and Sophie have appeared in two Jonas Brothers music videos together, teaming up for 'Sucker' in 2019 and 'What a Man Gotta Do' the following year.
How Did Kevin Jonas Meet His Wife, Danielle?
Kevin Jonas met his future wife, hairstylist Danielle Deleasa, during a family vacation to the Caribbean. She admitted that she "didn't know who the Jonas Brothers were," at the time. It was her older sister who gave Kevin Danielle's phone number.
It was love at first sight for Kevin who thought, "Gosh, every time I see Danielle, her hair looks so pretty, it's like someone did it.' And she was the one who always did it. It just looked like she always took care of herself. She always presented herself in a good way, and that just really attracted me. It was an attraction at first sight."
Related: Why Didn't Danielle Jonas Roast Kevin At The 'Jonas Brothers Family Roast'?
Danielle wasn't very interested in reciprocating Kevin's affections because "he lived in LA," and she thought she would never see him after their vacations finished. "So why would I spend time away from my family while we're on vacation? I was like, 'why should I waste my time?'"
Kevin Jonas made a point to prove to her that he wasn't looking for a fling and wanted something more long term. Kevin explained, "I was the one that was pursuing her most of the time and I didn't want her out of my sight. She actually ran away twice."
He admits he even tracked her flight, so he could call her the minute her plane landed back in Jersey. "I cyberstalked her after we met and cyberstalked to see what flight she was going to be on coming home, and then I called her the minute she landed. That might have been a little overboard, but I just went for it," the 'Sucker' singer recalled in a 2012 interview with Glamour.
What Danielle Jonas Does For A Living
Danielle Deleasa was born and raised in Denville, New Jersey. Danielle was working as a hairdresser when she first met her husband, Kevin Jonas.
Since marrying her husband, Danielle has left her role as a hairdresser and moved into the world of jewelry design. She launched her own jewelry line in 2018, inspired by her inability to find birthstone pieces that looked good together. "I was starting to look for jewelry with my kids' birthstones in it, and I was just not finding what I wanted," she explained.
"I love jewelry, but I love dainty stuff. I'm into very simple, pretty jewelry," she revealed.
Related: Was Sophie Turner's Relationship With Her Jonas Brothers Sisters-In Law Ever As Positive As Instagram Made It Look?
While pregnant with her first daughter Alena, Danielle and Kevin partnered with Dreft to launch an app called Amazing Baby Days that allowed couples to document the important moments of their child's life. She even live-tweeted the birth of her first daughter as a part of the partnership.
The couple also appeared in the short-lived E! News' reality show Married With Jonas for two seasons from 2012-2013. Reflecting on the show a decade later, Kevin Jonas admitted, "At times it was difficult. Doing a reality show is always a challenge. But for us, doing a show was great."
Kevin has also admitted that he can't help but rewatch the show every now and then. "We were children. We were babies. We got married so young. But it was great. We're still together, which is great. We did something right. The show was awesome. Who knows? Maybe one day we'll have to make a reprise."
Danielle Jonas' Relationship With Sophie Turner And Priyanka Chopra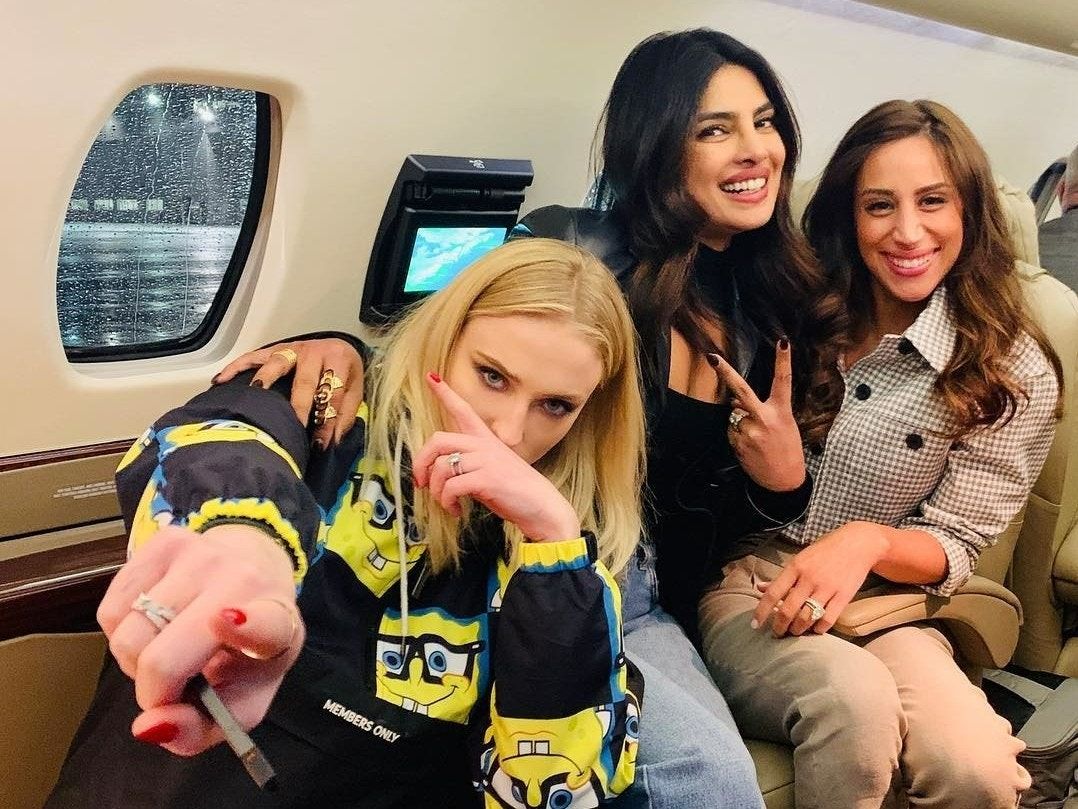 Kevin Jonas' wife, Danielle Jonas has admitted that she feels like the odd one out among the Jonas wife. The businesswoman and reality TV star admitted it can sometimes be challenging "finding my place" in a family alongside sisters-in-law who are actresses.
"I'm out there like you, celebrity-wise, because I married you," she told her husband, Kevin, in the joint interview. "I want to have something else to my name too, so that feels more than… or like, the other girls. Because when I'm with the other girls, I feel just less than sometimes."
Kevin admits he also feels that way around his brothers, due to their success in the entertainment history. "I feel that way too — being like you said, Nick and Joe, right? Like solo careers, movies, all the stuff," Kevin admitted before adding. "Everyone has to find their place, no matter the situation."
Related: Priyanka Chopra Had This Embarrassing Brush With The Internet Long Before Hollywood Fame
Despite their differences, the trio of Jonas wives were always very supportive of each other "especially because they're girls, and I can ask them for their opinions," Danielle told InStyle. "That's really nice, because I was always surrounded by boys."
Game of Thrones actress, Sophie Turner, who is currently divorcing Joe Jonas revealed that "It's also nice to have built-in girlfriends, who are actually really cool, who I can hang out with and we can really talk to each other about, like, how crazy the boys' lives are."
Citadel actress Priyanka Chopra explained their bond. "I've never had a sister, so it's really nice to have Danielle and Sophie, and just inheriting the family by proxy," she explained to Elle.
Share and Follow