Key events
11th over: England 42-2 (Duckett 13, Brook 2) Change at both ends, with Nortje snorting in. Fast, furious and a maiden.
10th over: England 42-2 (Duckett 13, Brook 2) Bavuma throws the ball to Jansen, and the camera pans back to show the amusing height gulf between the two: a daisy next to a daffodil. A tasty first over, with England's batters cautious, though Duckett collects three through the covers.
9th over: England 39-2 (Duckett 10, Brook 2) How cricket should be watched,:on the grass, under a sun umbrella, with a cold drink. Ten thousand tickets sold for today's match and the crowd starting to build. Three from Parnell's fifth.
8th over: England 35-2 (Duckett 7, Brook 2) A quiet over from Ngidi.
7th over: England 34-2 (Duckett 6, Brook 1) Enjoying this South African attack so much – a shame that their men's team have only 28 Tests lined up in the next four years.
"Good morning Tanya! Kim Thonger, hello!
"I see that Associated Press have been rapped on the knuckles for advising journalists to say 'people from France' rather than 'The French'. https://www.theguardian.com/media/2023/jan/28/ap-issues-clarification-over-its-advice-not-to-use-term-the-french
"Do you think this applies also to Australia? Shall I be obliged to say (if it happens) 'we thrashed the citizenry of Australia in The Ashes', rather than 'we whupped The Aussie arse'?"
WICKET! Malan lbw Parnell 12 (England 33-2)
Parnell screws one into Malan's back pad – the ball stays low and steady.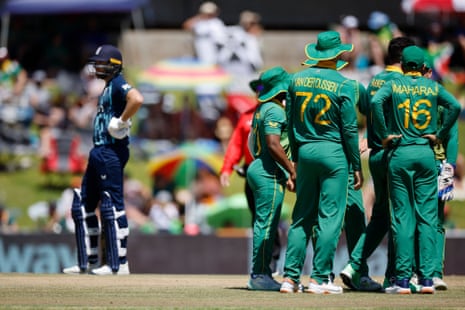 6th over: England 28-1 (Duckett 1, Malan 12) A sensational over from Ngidi, who swung two away from Roy before zipping one in to remove the bails, and then toys with Ben Duckett: one arrowing into the pads, another screaming past the bat into, and out of, de Kock's gloves, the last edged nervously over the slips. Fabulous bowling by South Africa this morning.
WICKET! Roy b Ngidi 9 (England 27-1)
Roy done by a beauteous gobstopper from Ngidi, that tempts him into the drive leaving space for the ball to say thanks very much and clop into the off stump.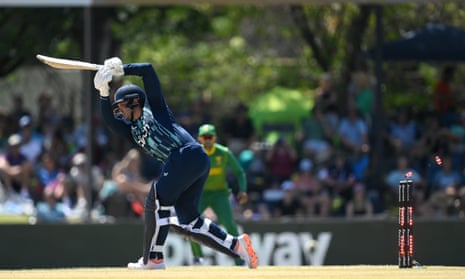 5th over: England 27-0 (Roy 9 , Malan 12) Roy is given out lbw to Parnell but begs for mercy from DRS – and he's reprieved, a big stride forward showing the orange sole of his boot saves the day – the ball is too high. He's beaten next ball but gets rid of his urggs with a shimmy four through midwicket.
Now if they did this in cheese and onion:
4th over: England 19-0 (Roy 2 , Malan 12) The third umpire has to put down his coffee and deliberate on a caught behind. Not out says umpire Erasmus on the field – and he's right, no bat on the ball at all. Ngidi was sure it was out and his mood isn't helped when four leg byes rocket down to the rope. God that sky looks good. I was considering buying a heated blanket but the real thing would be better. Ooof, Malan has had enough faffing about and wellies the ball from outside off over long on.
3rd over: England 9-0 (Roy 2 , Malan 6) Parnell again, still causing Roy a bit of bother. A leading edge falls safe over backward point, and Roy is done by one high on the legs that he almost treads on. No real fluency yet from Roy.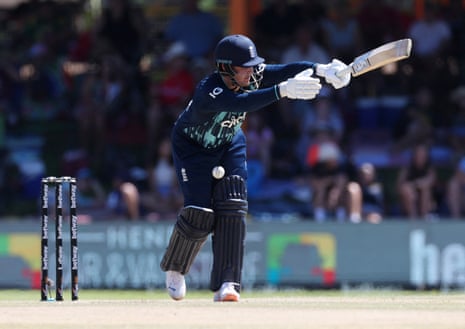 2nd over: England 6-0 (Roy 0 , Malan 5) Ngidi fizzes one into Malan's pads first ball, but South Africa wrinkle their noses at a review. Next ball is flayed away off his pads for four. Nigidi has sun creamed his face as if a butterfly has opened its wings across his cheeks. Six from the over but lots of lovely swing.
1st over: England 0-0 (Roy 0 , Malan 0):Wayne Parnell (of Kent, Worcesetershire and Northants) takes the first ball to the strains of the Barmy Army's trumpeteer. A sticky maiden, with Roy unable to scrounge anything, an acrobatic save at backward point off the last ball denying him a single.
Green, green grass, blue, blue sky. A woman knitting under a sun umbrella, a gang of little boys with bare feet sitting on a rug, the players march out. Let me know about your Sunday mornings.
Fascinating listening to Nasser Hussain in the Sky studio, about whether Jason Roy – who remember scored a century last match – has plateaued. England, he says, will have to decide whether his trajectory is downwards and should be replaced for the World Cup by a young gun on the rise. Harsh game this professional sport.
South Africa: Quinton de Kock (wk), Temba Bavuma (capt), Rassie van der Dussen, Aiden Markram, Heinrich Klaasen, David Miller, Wayne Parnell, Marco Jansen, Anrich Nortje, Keshav Maharaj, Lungi Ngidi.
Changes for South Africa as well, Keshav Maharaj, Marco Jansen and Lungi Ngidi replace Tabraiz Shamsie and Kagiso Rabada and Friday's player of the match Sisanda Magala.
England: Jason Roy, Dawid Malan, Ben Duckett, Harry Brook, Jos Buttler, Moeen Ali, Sam Curran, Chris Woakes, Adil Rashid, Olly Stone, Reece Topley.
I'm afraid I missed Jos Buttler's words of wisdom as there was an urgent issue with some bike lights, but Jofra Archer and David Willey sit on the bench, replaced by Reece Topley and Chris Woakes.
South Africa win the toss and will bowl
Temba Bavuma wants to put England under early pressure with the ball. It looks hottttt out there.
Hints that Jofra Archer will be rested today… toss and teams coming up shortly.
Good morning! The second ODI between South Africa and England rolls onto the conveyor belt at 8am GMT, after England surprised everyone by collapsing into a 27 run defeat at the Mangaung Oval on Friday.
In Bloemfontein came long overdue runs for a clearly angry, and relieved, Jason Roy in an opening stand of 146, a run out at last for Jofra Archer, and ODI duck for Harry Brook, as South Africa's seamers proved too hot to handle in the last half of the game. England collapsed from 146-0 to impressive player of the match Sisanda Magala and Anrich Nortje .
We're back in Bloemfontein today, where England would like to put their recent ODI record (played four, lost four) in the dustbin of history. It'll be a fresh strip today out in the 30 degree heat, with a similarly slow and sticks surface expected. Put the kettle on, by eight the sun will be just peeping over the grey January horizon.