Share and Follow
Elton John is a music legend. His accomplishments are vast and his catalog is one to admire. John's music is part of history and will forever be known by generations to come.
Despite his accomplishments, however, John has not always been kind to other artists. One of the artists he has publicly trashed is Madonna. Over the years, John has accused Madonna of lip-syncing, said she didn't have a chance at winning a Golden Globe, and insulted her even further in a profanity-laden interview.
Things came to ahead when the two happened to run into each other at a restaurant in France. John would later discuss the encounter and revealed how he reacted.
Elton Kicks Off Feud By Dissing Madonna's 'Bond' Theme And Later Accused Her Of Lip-Syncing
Many people first saw John and Madonna together at the 1995 Brit Awards. The two posed for a photo shoot together backstage. In the video clip from the photo session, there is some shade thrown. However, the two seem in good spirits and it all seems to be in good fun.
That is, until 2002 when Madonna released her theme song for the James Bond film Die Another Day. John wasn't too pleased with the song and made his feelings known when speaking to the press.
John called the song "the worst Bond tune ever." He said that he was a fan of Madonna's, but felt the song would've been better suited for someone like "Lulu and Shirley Bassey," or even himself.
John would get even meaner toward Madonna in 2004. At that year's Q Awards, John was awarded the Classic Songwriter Award. Madonna was nominated that night in the Best Live Act category and John felt the need to criticize the nomination.
"Since when has lip-syncing been live? Anyone who lip-syncs in public on stage when you pay £75 to see them should be shot," John said. "That's me off her Christmas card list, but do I give a toss? No."
Related: What Happened Between Pink And Madonna?
Meanwhile, Madonna's publicist Liz Rosenberg responded to John's comments.
"Madonna does not lip-synch nor does she spend her time trashing other artists," Rosenberg said. "Elton John remains on her Christmas card list, whether he is nice … or naughty."
Madonna Beat Out Elton At The Golden Globes And His Husband Wasn't Happy About It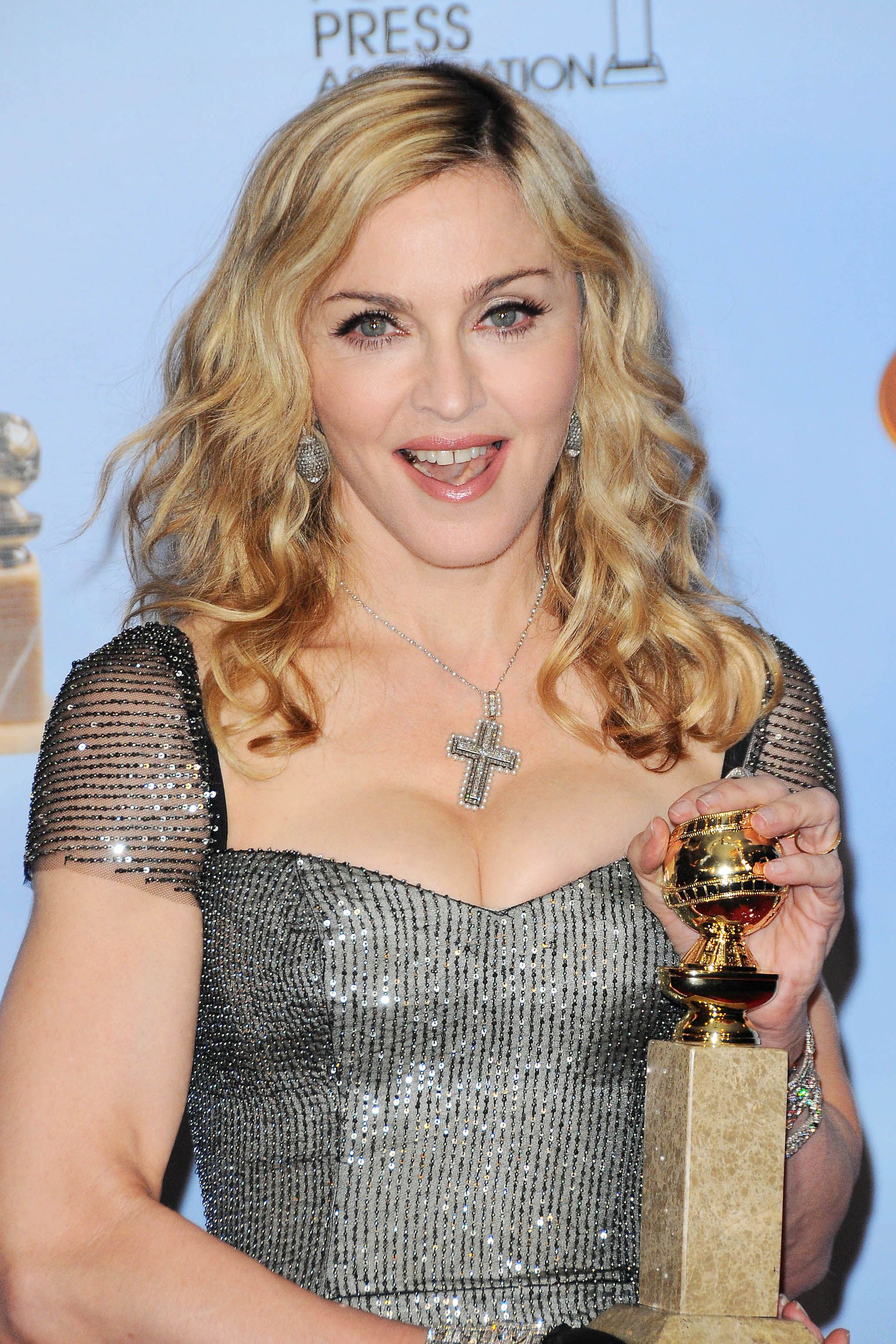 Things came to ahead at the 2012 Golden Globe Awards. Madonna and John were both nominated in the Best Original Song category. Madonna's song "Masterpiece" from her directorial baby W.E. was nominated. John's song with Lady Gaga, "Hello, Hello" from Gnomeo & Juliet was also nominated.
A few weeks prior, Madonna spoke about the similarities between Gaga's "Born This Way" and her own hit "Express Yourself." Speaking to ABC News, Madonna said Gaga's song was "reductive." Gaga is close friends with John and she is the godmother to his son.
On the red carpet, John said Madonna didn't have "a f****** chance" at winning. Despite these comments, it was Madonna who took home the trophy. Cameras cut to John's reaction in the audience looking none too pleased.
Related: Why Tina Turner And Elton John Absolutely Hated Each Other: The Truth About Their Endless Feud
While backstage, Madonna was asked about winning the award over John.
"I hope [Elton John] speaks to me for the next couple of years," she said. "He's been known to get mad at me so I don't know. He's brilliant and I adore him so he'll win another award. I don't feel bad!"
After the ceremony, John's husband David Furnish vented his anger at Madonna on Facebook.
"Madonna. Best song???? F*** off!!!" he wrote. "Madonna winning Best Original Song truly shows how these awards have nothing to do with merit. Her acceptance speech was embarrassing in its narcissism."
Elton Ran Into Madonna At A Restaurant, Apologized, And Paid For Her Dinner
Later that year, Madonna was back on the road with her "MDNA Tour." John, meanwhile, was still making headlines for insulting the Queen of Pop.
During an interview with Australia's Molly Meldrum, John railed against Madonna yet again.
"She's such a nightmare," John said. "She looks like a f****** fairground stripper."
"Why is she such a nightmare?" John continued. "Her career is over, I can tell you that. Her tour has been a disaster and it couldn't happen to a bigger c***."
Perhaps giving a peek into the root of his anger towards Madonna, John added that she had "been horrible to Gaga."
"If Madonna had any common sense, she would have made a record like 'Ray of Light'," John added, "stayed away from the dance stuff, and just been a great pop singer and made great pop records, which she does brilliantly."
John's team later redacted the comments, saying they were supposed to be "off the record."
Related: What Happened Between David Letterman And Madonna?
A year later, John confirmed in an interview that his beef with Madonna was officially over. He recalled a recent encounter the two had at a restaurant in France.
"She came in, and I sent over a note," John said. "She was very gracious. I apologized profusely because what I said should never have appeared in public. She accepted our apology, and then we bought her dinner. That's over and done with."
Share and Follow